Houston Wedding Caterer Advice; Direct From The Pros
It's your BIG DAY! Don't leave anything to chance. We at Houston Party Ride asked some of Houston's top wedding caterers their advice to ensuring your reception is one to remember!
"The food at the reception is one of the most memorable parts of a wedding. What are some tips you give your couples to ensure this part of their big day goes off without a hitch?"
One thing most brides/ grooms overlook is how much food eager guests can pile on a standard size dinner plate.  Kids are really bad about wasting food.  By the time your guests get to what looks like an endless amount of food on your buffet, their eyes may be bigger than their stomach.  That creates a lot of waste as well as miserable guests.  Use a 'Buffet Plate' whether you're serving from a self serve or staffed buffet.  A standard dinner plate is between 10" and 11".  A buffet plate is 9" or less.  Your guests can come back as often as possible, but you want them to be reasonable in the first pass.
At BB's Events & Catering, we really do believe that fresh is best, especially for a wedding. It's important to hire a company that has experience executing on-site cooking for large events.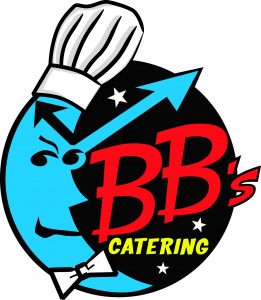 When looking for a caterer it is important to feel confident with the caterer you choose.  You want them to be flexible with menu options and provide a tasting to ensure that they are the right fit.  Communication and promptness are essential to helping couples feel at ease on their wedding day.  At Taste Sensations Catering, we are a family owned catering business that treats each wedding as if it were our own.   You're more than a customer, you become family with us.
Ask lots of questions and share photos of some dishes you love! Requesting a tasting is a great way to get to know your caterer and make sure they understand your vision. When planning the perfect menu, share lots of details about your guest list. The perfect caterer should be able to customize your menu and budget to fit your special needs. Timing is everything! Make sure your day of coordinator is in contact with your caterer to make sure they understand exactly what you envision for your special day!  
A reception is a special experience for everyone involved, and a huge part of that experience is food. Not only how it taste, but also how it is displayed and served. If your caterer is aware of details like color themes and decorations, they can help to enhance aesthetics & cohesiveness, and tying everything together for an unforgettable experience.
Order 5% more than you think you need! Although you incur more cost, you will be able to provide a meal for unexpected guests who did not rsvp, and/or feed a vendor or two. Also, something we *always* provide for our clients is boxes of their food to go with them as they leave the reception. There's nothing worse than getting back to your hotel after the wedding day of your dreams and feel hungry. All that dancing and drinking works up your appetite for a late night snack! Make sure your caterer has you covered.
This is YOUR party and you can have whatever you choose on your menu. Let your caterer guide you so everything works well according to your vision. You don't have to stick to "the usual". Make it yours-  move outside the box and make it a day to remember.
Here at DINE, we believe that the food at a wedding reception is all about bringing people together. Whether it be Hors D'oeuvres at Cocktail Hour, or a traditional plated formal meal, the food at a wedding will always initiate conversations. Think really carefully about your guests, and the type of day that you would also like them to have; this can help to make important decisions such as cuisine and budget choices a little easier. Don't be frightened to try new things, or ask your caterer for something specific to your needs- they are able to make this happen, and will come up with some great creative ideas!
Compiled by Houston Party Ride
Be sure to check out these other valuable Houston wedding resources for your big day: